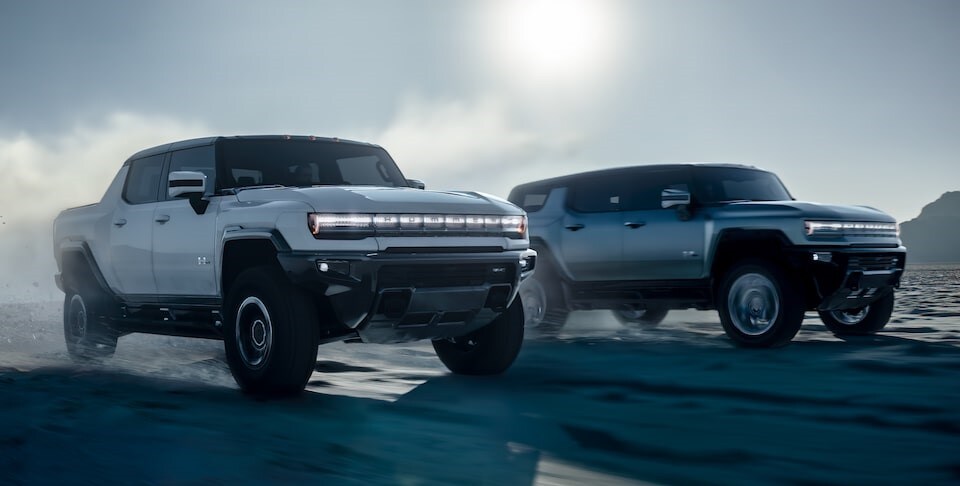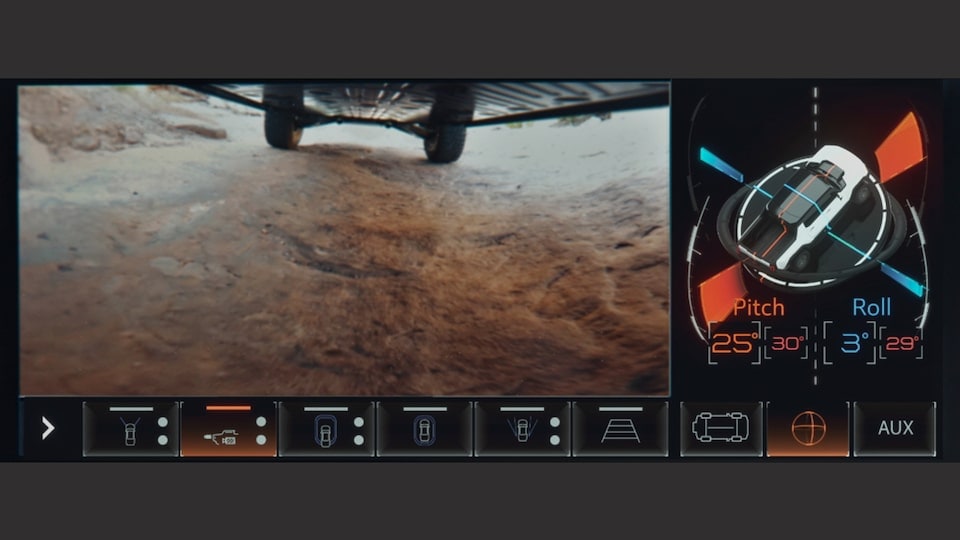 ULTRAVISION
Available UltraVision- with up to eighteen camera viewson pickup and seventeen on SUV, including standard HD Surround Vision - includes waterproof underbody forward-and-rear-facing cameras for real-time views of the terrain to help you pick the best line along the trail. A washer function and replaceable lens protectors help you see clearly. Using multiple cameras to display a digital overhead image of the area around HUMMER EV, HD Surround Vision allows you to maneuver off-road and navigate tight spaces when traveling at low speeds.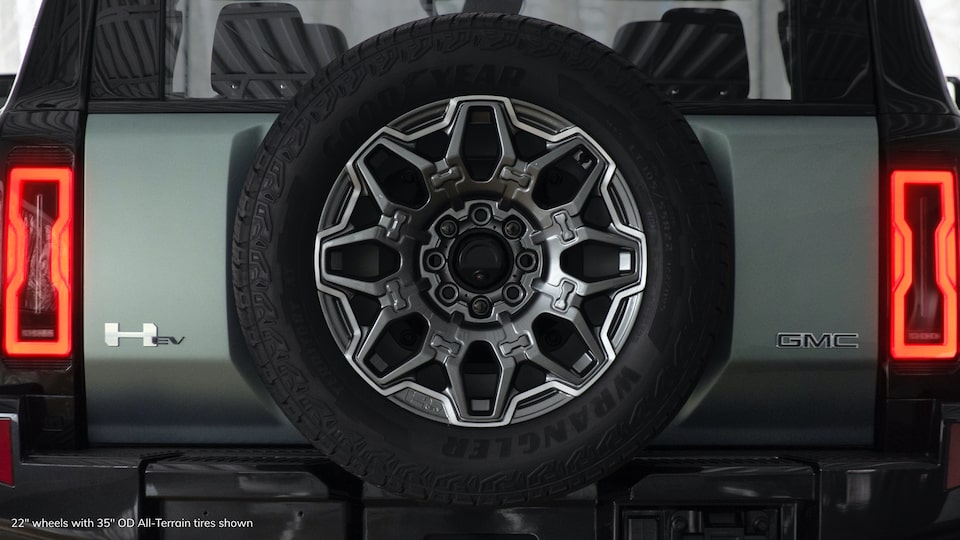 SPECIALLY ENGINEERED 35" TIRES
It all starts with a towering ground clearance made possible by specially engineered 35" Goodyear® Wrangler Territory tires for an optimal balance of on- and off-road performance.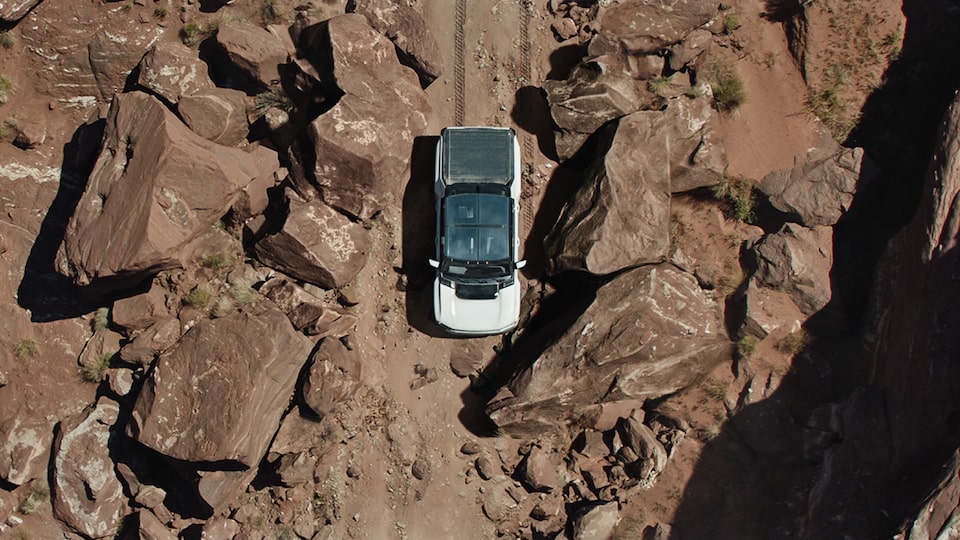 TRANSPARENT SKY PANELS
HUMMER EV's available Transparent Sky Panels are tinted to deflect the sun and help protect you from the elements while providing breathtaking panoramic views.
LUNAR SHADOW INTERIOR
The available Lunar Shadow interiorin Jet Black and Taupe casts a dark appearance and is complemented by Tech Bronze accents. Durable all-weather flooring adds visual and practical appeal.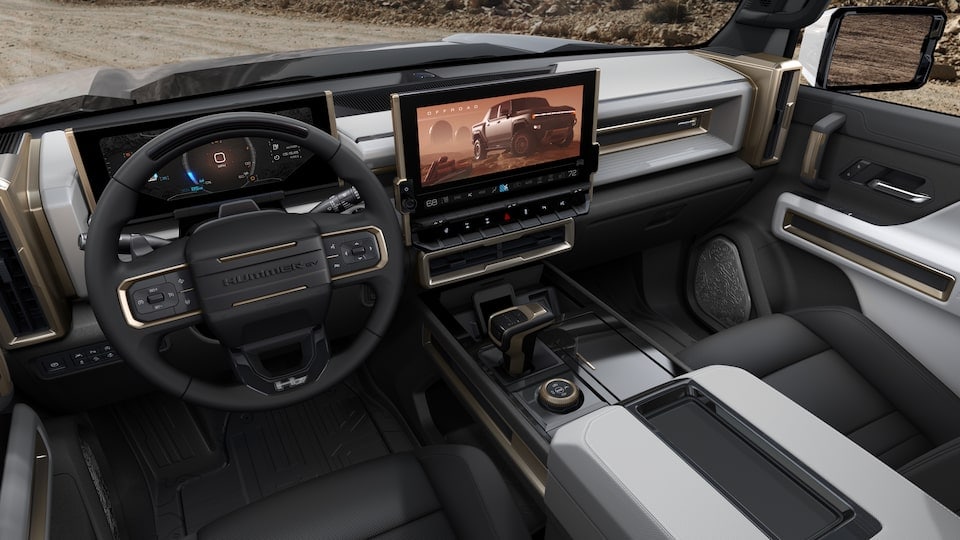 LUNAR HORIZON INTERIOR
Intergalactic travel and otherworldly landscapes inspire the available Lunar Horizon-themed Interiorin Jet Black and Light Gray. Discover Tech Bronze accents, durable all-weather flooring and more.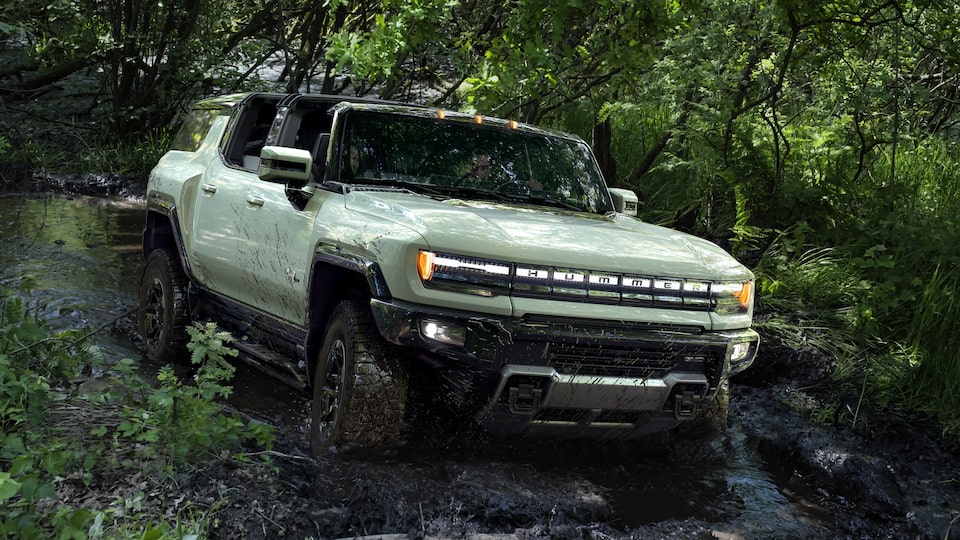 EXTREME OFF-ROAD CAPABILITY
Off-road dominance is engineered into every aspect of HUMMER EV. Standard independent front and rear suspensions will enable remarkable off-pavement handling and highway comfort, while available front e-lockers and virtual rear lockers optimize traction. Also, available heavy-duty ball-spline half shafts help maximize articulation and reduce unwanted steering feedback during hard cornering and off-roading. As a supertruck built for off-road dominance, both the pickup and SUV are engineered with approach, departure and breakover angles that will make competitors envious.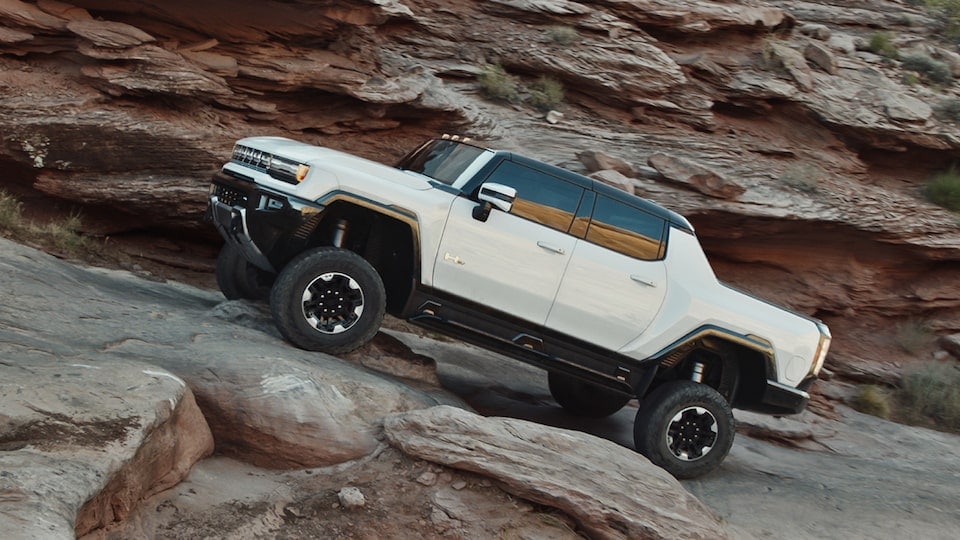 4-WHEEL STEER
HUMMER EV is engineered to command precision in every driving situation. Available 4-Wheel Steer helps reduce turning radius and enables nimble maneuverability, similar to a compact sedan, whether rock crawling on the trail or pulling into a parking spot. And the already tight turning radius of the pickup is tightened further with the shorter wheelbase of HUMMER EV SUV-by approximately 9"-enabling off-road a tighter turn circle of 20" for nimble maneuvers in close quarters.
FULL UNDERBODY ARMOR
---
Utilizing sturdy steel plates and shields around the differential and battery pack, available full underbody armor,skid plates and rock sliders help protect HUMMER EV in extreme off-roading environments.
POWER ETRUNK™
---
Stow the modular Sky Panels or other gear in the power eTrunk™.
BOSE®AUDIO SYSTEM
---
The Bose 14-speaker audio system featuring Centerpoint® with the Electric Vehicle Sound Enhancement (EVSE) system creates a multisensory experience designed specifically for the HUMMER EV cabins.
How Can We Help?
* Indicates a required field